Last Updated on September 16, 2022 by Muhammad Tabish
GetResponse Review 2022 – Get New Direction for Your Business GetResponse provides an exceptional feature set and a powerful yet simple account interface. GetResponse has special tools for businesses to market their product. However, most consumers will be satisfied with the value of money they receive after buying this tool. Most businesses hire a professional marketing team for branding and promotion purposes. GetResponse eliminates the need of hiring a professional marketing team and paying them huge sums. So, let us sum up some of the most relevant features of GetResponse in this review.
#GetResponse Email Creator
You do not need to create an email newsletter design while using GetResponse Login. The beautiful templates available with GetResponse make it really easy for you to create Professional looking newsletters. The templates can even be customized through drag and drop editor. You can see the history of your edits too. So, add button or text blocks in the template and use it to perfection.
#Wonderful Template Range
Another key feature is the quality and quantity of email templates. There is a wide range of templates available under different categories. GetResponse provides you over 500+ templates.
#GetResponse Autoresponders
You can welcome your newly joined customer with a greeting text and delight him/her with an instant message. Auto-Responder 2.0 lets you manage the greeting text, and you can forward the greeting of your choice.
#GetResponse Landing Page Maker
In just 3 simple steps you can create a perfect landing page for your product or website. Create Mobile Friendly landing pages in minutes without IT expertise. GetResponse offers you more than 100 templates to create awesome landing pages.
#Built-in Web Forms
A wide range of customizable web forms is available too. The form fields and labels are easily customizable and you can even add custom fields. These web forms can be added to landing pages and webinar pages too.
#Image Editor
You can directly edit the image with the use of filters, brushes, and more effects. You can make your newsletters or landing page look wildly attractive after adding filtering effects to the images.
#A/B Testing
A/B testing enables you to check out the performance of the landing pages created by you. Not only this, you can check the performance of 5 variants of the same template simultaneously on the basis of the viewer's response.
#Preview of Inbox
Preview your newsletters with GetResponse's free tool to make sure that it has been tested on every major email client: Gmail, Hotmail, Yahoo, and others. They cover all the most popular inboxes! You can easily rectify the mistakes after previewing your newsletter.
#GetResponse Webinars
GetResponse provides you the added functionality of taking Webinars. You can set up online meetings or GetResponse webinars with your valuable customers or client. GetResponse allows you to create Webinar invitation pages and sends invites to your customers. You can even set a customized webinar URL so that only selected users can join the webinar. You can even protect the webinar session with a password.
#Spam Checker
SpamAssassinTM is integrated with GetResponse Message Editor, making it a part of your regular newsletter creation – intuitive and impossible to forget. This ensures that your message will pass the toughest anti-spam test. Spamcop is GetResponse's own spam checking tool which catches the spam words in your email newsletters, which might be blocked by the subscriber's mailbox. After that, it also suggests you few changes that can be made to pass the spam filters of your subscriber's mailbox. AWeber
#Mobile Applications
GetResponse Android App and iOS app are available at Google PlayStore & Apple AppStore respectively. You can easily manage email campaigns, Inbox Preview, reports, etc. by getting remote access through its app. The mobile app of GetResponse enables you to do everything that you can do on a desktop.
#Enterprise Solution
Enterprise Solution is designed specifically for large businesses or organizations. The GetResponse packages include a dedicated IP address, dedicated account manager, training, consulting, and security. Get the best email deliverability by a unique IP address. Account Manager that will optimize your email marketing campaigns to achieve maximum goals. GetResponse Review 2022 your list, copywriters, and content design, and make your email template look eye pleasing.
#GetResponse Pricing
GetResponse does not disappoint its users with the price of its packages. Various packages are available at affordable price ranges. The lowest package starts at $15/month and you can send newsletters to about 1000 subscribers. If you want to enjoy taking webinar sessions online, then you can go for a $49/month package. In order to buy a maximum package, you need to pay $799 each month and you can send email newsletters to over 100,000 contacts. You can easily upgrade or downgrade your package depending on the flow of subscribers. Check out GetResponse Black Friday 2022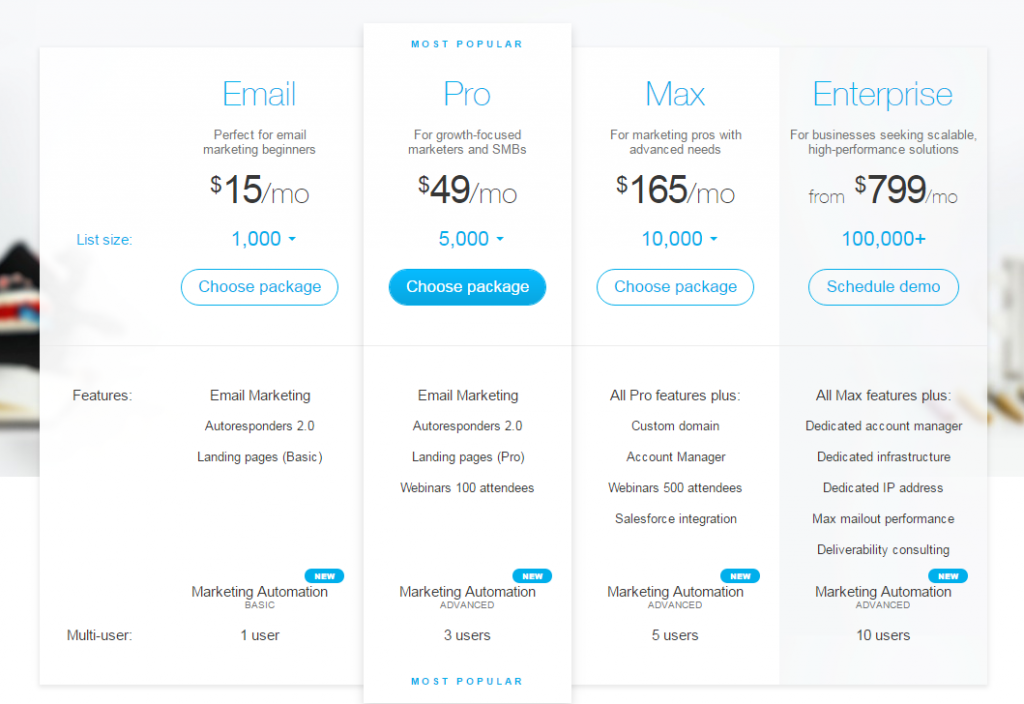 Final Say: GetResponse Review 2022
There are many online resources available in the world where you have to connect with your business and your users. Most business owners like to hire a professional marketing team for branding and promote their business. GetResponse can help tremendously to get more business leads with its email marketing features. It is an awesome tool one can buy in order to carry out successful branding of the business.
Jyoti Chauhan is a professional blogger and digital marketer from India. She writes about SEO, Social Media, Blogging Tips and product reviews at UpdateLand.com to help newbies to grow their blog.